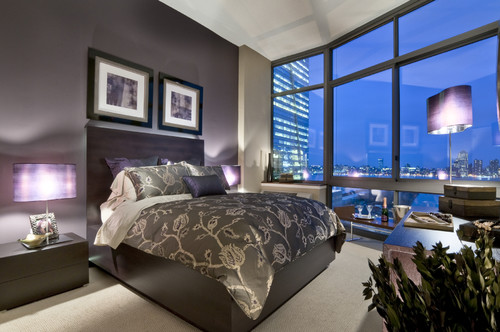 Want to give your bedroom a makeover? Grab your overalls and a paint brush and get ready to give your room that look you have always wanted to!
Decide on an accent wall, preferably the wall with the window or the bed, this should be the first wall the eye sees after walking in,
And choose to give it a warm color like red to reflect your spontaneous personality, or a rich apple green to reflect your inner nature-lover gazing at the stars in some far away beach.
Yes, something as simple and inexpensive like an accent wall can add dimension and depth to your safe haven.
If you want to give your bedroom a light and spacious feel, opt for lighter colors on the color wheel such as pastels and corals,
But if you prefer to incorporate a cozy and homey feel where the bed waits for you to jump in, opt for something warmer and darker such as amber or orange.
Totally brings out the homey feel!
Paint the rest of your walls a contrasting color, white or taupe to bring in the sleek and contemporary style, or a darker color such as grey or purple to
Bring out the gothic essence.
Don't forget to use lots of duct tape and plastic over furniture's, you don't want to spend a night knee deep in rubbing alcohol!
Have fun painting your walls to add a cost effective twist to your home!
Let me know what combinations you have tried in the comments below!